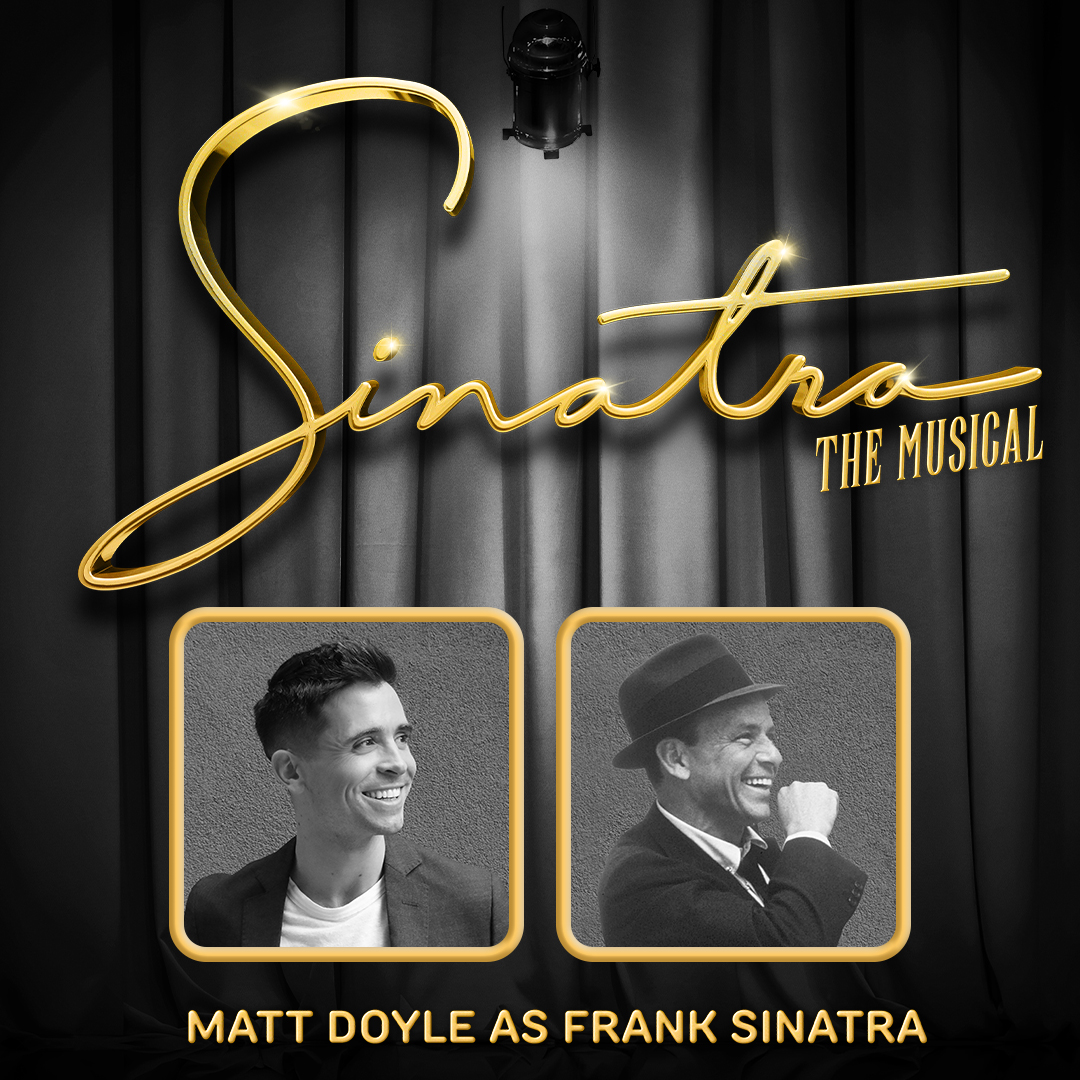 At Birmingham Rep from
23 September – 28 October 2023
It was announced today (Tuesday 11 July 2023) that the Tony Award-winning Matt Doyle will take on the iconic role of Frank Sinatra in the highly anticipated World Premiere of Sinatra The Musical, based on the life and career of the legendary artist and cultural icon. This spectacular new musical features twenty actors and seventeen musicians performing over twenty five of Sinatra's most legendary songs. It will run at Birmingham Rep from 23 September to 28 October 2023.
Matt Doyle said: 'I have no doubt my Italian grandmothers would be profoundly overjoyed. This one is for Geraldine Padula and Nicoletta Macchia who raised my family and me on Frank's music. I cannot begin to express what an honour it is to take on The Chairman of the Board's incredible legacy.'
Director and Choreographer Kathleen Marshall said: 'I am so excited to work with Matt Doyle again! Matt is an incredible actor and singer, and he has all the charm, charisma, sensitivity and depth to bring the story of Frank Sinatra's life and artistry to Birmingham Rep.'
Tina Sinatra added: 'Sinatra is the first book musical to take an honest look at my father's life, so the question people kept asking — who could possibly play him? From the moment Matt Doyle swaggered into the audition room, he owned the role. Not only did he naturally possess Frank's warmth and charm, Matt understood my father's complexities. And once he began to sing, we knew we had found our Frank! In addition to his extraordinary talent, Matt also possesses an intuitive sensitivity about life that will help reveal the man behind the legend. I can't wait to see him in the role at Birmingham Rep in the fall! I know Dad will be proud of him.'
Matt Doyle won the 2022 Tony Award for 'Best Featured Actor in a Musical' for his performance as Jamie in the Broadway revival of Stephen Sondheim and George Furth's Company (directed by Marianne Elliott) for which he also won Drama Desk and Outer Critics Circle Awards, and received a Drama League Award nomination. His Broadway credits also include Tony-winning Musicals The Book of Mormon (in the lead role of Elder Price) and Spring Awakening; 'Best Play' winner War Horse; and the revival of the beloved musical comedy Bye Bye Birdie. Regionally, he starred in the world premiere of the Huey Lewis musical, The Heart of Rock & Roll at the Old Globe Theater in San Diego; and played Melchoir in the national tour of Spring Awakening. His Off-Broadway and regional credits include Sweeney Todd, West Side Story, A Clockwork Orange, Brooklynite, Giant, and Jasper in Deadland. On screen, he has appeared on The Code(CBS), The Original Gossip Girl, and returned to the show in the HBO Max reboot. He can also be seen in the indie feature Private Romeo, and the short film, The Albatross Cafe. Matt has performed at Carnegie Hall with the New York Pops, at symphonies across The United States and Canada, and continues to headline a sold-out solo show throughout New York City and beyond. Doyle is currently finishing his run starring as Seymour in the Westside Theatre's, Off-Broadway production of, Little Shop of Horrors.
Sinatra The Musical is written by the two-time Tony award-winning writer Joe DiPietro (Memphis the Musical, What's New Pussycat?), directed by three time Tony Award-winning Kathleen Marshall (Wonderful Town, Anything Goes) and the set is designed by Olivier Award-winning Peter McKintosh (Crazy for You, Orlando). The orchestra of seventeen musicians will be supervised by Gareth Valentine (My Fair Lady, 42nd Street).
Joining Joe DiPietro (Book Writer), Kathleen Marshall (Director and Choreographer), Gareth Valentine (Music Supervisor) and Peter McKintosh (Set Designer) on the creative team are: Jon Morrell (Costume Designer), Tim Mitchell (Lighting Designer), Paul Groothuis (Sound Designer), Akhila Krishnan (Video Designer), Campbell Young (Wigs, Hair and Make-up Designer), Larry Blank & John Clayton (Orchestrators), Ian Eisendrath (Arranger), David Chase (Dance Arrangements), David Grindrod & Will Burton (UK Casting Directors), Jim Carnahan (US Casting Director), Jason Thinger (US Casting (Carnahan), Stevan Mijailovic (Associate Director), and Carol Lee Meadows (Associate Choreographer). Further creatives to be announced.
Sinatra, The Musical is presented by Birmingham Rep in association with Michele Anthony, Bruce Resnikoff and Scott Landis for Universal Music Group Theatrical and Tina Sinatra and Charles Pignone on behalf of Frank Sinatra Enterprises.
It is New Year's Eve, 1942, and a skinny 27-year-old Italian American singer is about to step onto the stage of New York's Paramount Theatre and give a performance that will change music history. As Frank Sinatra's career suddenly skyrockets, he struggles with balancing the love of his wife, Nancy, against the demands and temptations of being the most popular singer in America. But when he begins a torrid affair with movie goddess Ava Gardner, his records stop selling and the press turns against him, sending his career into a tailspin. Driven by his devotion to his family, Sinatra employs his peerless artistry and dogged determination to stage the greatest comeback in showbiz history.
Joe DiPietro said: 'Growing up, there were two pictures hanging in my grandmother's kitchen — The Pope and Frank Sinatra. So to sit down with Tina Sinatra and hear stories of her father which no one else knows, and then to be able to put those stories on stage – well, I think it'll make for an unexpected and thrilling new musical. We'll be showing you how the man became the legend and how the legend was — at the end of the day — just a man. And I couldn't be more excited that our world premiere is at Birmingham Rep, where I had such a phenomenal time working on What's New, Pussycat?'
Sean Foley, double Olivier Award-winner, Tony nominee and Artistic Director of The Rep, Birmingham said: 'The Rep is thrilled to be co-producing this world premiere production about the legendary artist Frank Sinatra. His was an extraordinary life, and this promises to be an unmissable show about that life. We look forward to welcoming two-time Tony Award winning writer, Joe DiPietro, and three-time Tony Award winning Director/Choreographer Kathleen Marshall, together with the rest of the world class creative team to Birmingham very shortly. I am thrilled that Tony Award winner Matt Doyle will lead the cast in the iconic role of Frank Sinatra himself. Matt is an extraordinary talent, and I know that our audiences will welcome him and the rest of the cast with excitement and open arms.'
Michele Anthony (Executive Vice President, Universal Music Group) and Bruce Resnikoff (President & CEO, Universal Music Enterprises) producing on behalf of Universal Music Group Theatrical said: 'We're delighted to premiere this inaugural production of Sinatra The Musical at Birmingham Rep later this year, and to bring a new dimension to one of the most dynamic and creative periods in Frank Sinatra's iconic life and career. Through the legacy of his music and legendary performances, Frank Sinatra continues to capture the attention of both life-long fans and a new generation of audiences around the world.'
Joe DiPietro is the winner of two Tony Awards, a Drama Desk Award and three Outer Critics Circle Awards. His musicals and plays have received thousands of productions across the country and around the world. His new comedy, Babbitt, starring Matthew Broderick, will premiere at La Jolla Playhouse this autumn. His most recent musical, What's New Pussycat? played to critical and popular acclaim when it premiered at The Rep last year. His other shows include Memphis (2010 Tony Award for Best Musical); Diana (currently streaming on Netflix), Nice Work If You Can Get It (10 Tony Award nominations including Best Book of a Musical for DiPietro); The Toxic Avenger (Outer Critics Circle Award – Best Off-Broadway Musical); I Love You, You're Perfect, Now Change (longest-running musical revue in Off-Broadway history); as well as the much-produced comedies Clever Little Lies and Over the River and Through the Woods, amongst others.
Kathleen Marshall is a nine-time Tony Award nominee, winning three times for Best Choreography for the Broadway revivals of Wonderful Town, The Pajama Game and Anything Goes. She recently received an Olivier Award for her choreography of the West End production of Anything Goes. She has worked on more than twenty Broadway shows and she is the first woman who has directed a play, directed a musical and choreographed a musical on Broadway. Off-Broadway and regional credits include for the New York Shakespeare Festival, Second Stage, Transport Group, Williamstown Theatre Festival, The Old Globe, Long Wharf, Paper Mill,Hollywood Bowl, Boston Pops, Signature Theatre and St. Louis MUNY. Kathleen served as the Artistic Director for City Center Encores! for four seasons, during which time Encores! received a special Tony Award for Excellence in Theatre. Her film and television credits include My Week with Marilyn (choreographer), Once Upon a Mattress, The Music Man (choreographer) and 2 Broke Girls. She has received three Drama Desk Awards, three Outer Critics Circle Awards, an Emmy nomination, the Astaire Award, the George Abbott Award, the Smith College Medal (her alma mater), the Pennsylvania Governor's Award for the Arts and she has been named a Distinguished Daughter of Pennsylvania. Kathleen previously worked with Matt Doyle on A Jerome Robbins Centennial Concert in New York.
Sinatra The Musical, presented by Birmingham Rep in association with Universal Media Group Theatrical and Frank Sinatra Enterprises will premiere at The Rep on Saturday 23 September and runs until Saturday 28 October 2023. It is the first of a series of new projects and initiatives developed by Frank Sinatra Enterprises in partnership with Universal Music Group that will help introduce new audiences and fans to the timeless singer's rich catalogue and superstar legacy.
FURTHER SINATRA THE MUSICAL IMAGERY CAN BE DOWNLOADED HERE
For further press information please contact Nada Zakula
at Story House on nada.zakula@storyhousepr.co.uk or 07831 766086
www.storyhousepr.co.uk
NOTES TO EDITORS
Dates
Saturday 23 September – Saturday 28 October 2023
Birmingham Rep
6 Centenary Square
Birmingham
B1 2EP
Tickets: from £15
Box Office: 0121 236 4455
https://www.birmingham-rep.co.uk/whats-on/sinatramusical/
or
https://sinatra.lnk.to/SinatraMusical
Socials:
Birmingham Rep:
Twitter @BirminghamRep
Facebook.com/Birminghamrep
Instagram @therepbirmingham
Sinatra The Musical:
Facebook: @SinatraMusical
Twitter: @Sinatra_Musical
Instagram: @Sinatra_Musical
Frank Sinatra Socials:
https://www.tiktok.com/@franksinatra
https://www.facebook.com/sinatra
https://www.instagram.com/sinatra/
https://twitter.com/franksinatra

Frank Sinatra's Essential Playlists:
https://stream.lnk.to/Sinatra
FRANK SINATRA ENTERPRISES (FSE) is a joint venture between the Sinatra family and Warner Music Group. FSE owns Frank Sinatra's recordings from the Reprise era as well as a treasure trove of films, television specials and unreleased footage, photographs and audio recordings, which collectively represent one of the foremost bodies of artistic work of the modern era. FSE also owns and manages Frank Sinatra's name and likeness rights and represents the artist's rights to Columbia and Capitol catalogues. (www.sinatra.com).
UNIVERSAL MUSIC GROUP At Universal Music Group, we exist to shape culture through the power of artistry. UMG is the world leader in music-based entertainment, with a broad array of businesses engaged in recorded music, music publishing, merchandising and audio-visual content. Featuring the most comprehensive catalogue of recordings and songs across every musical genre, UMG identifies and develops artists and produces and distributes the most critically acclaimed and commercially successful music in the world. Committed to artistry, innovation and entrepreneurship, UMG fosters the development of services, platforms, and business models in order to broaden artistic and commercial opportunities for our artists and create new experiences for fans. For more information, visit www.universalmusic.com.

BIRMINGHAM REP is the oldest building-based theatre company in the UK, and the forerunner of both the RSC and the National Theatre. The Rep has an unparalleled pioneering history and is the only producing theatre in the UK's Second City. It has been at the forefront of theatre in the UK for over 100 years.
The Rep's mission is to create artistically ambitious popular theatre – world class, for everyone. The commissioning and production of new work lies at the core of The Rep's programme and over the last 15 years, with the company has produced more than 130 new plays.
As well as presenting over 60 productions on its three stages every year, the theatre tours its productions nationally and internationally.
The Rep's acclaimed learning and outreach programme is one of the largest and most diverse of any arts organisation in the country. The Rep has nurtured new talent throughout its history – from Laurence Olivier and Peter Brook to its modern day youth theatre, and the ground-breaking Rep Foundry theatre-makers programme, it has offered opportunity and training for thousands of early career writers, directors, and artists.
Many of The Rep's productions go on to have lives beyond Birmingham. Recent tours and transfers include The Play What I Wrote, Animal Farm, East is East, The Lovely Bones, Brief Encounter, Nativity! The Musical, The Government Inspector, Of Mice and Men, Anita and Me, Penguins and The King's Speech. The theatre's long-running production of The Snowman celebrated its 28th anniversary as well as its 25th consecutive season at London's Peacock Theatre this Christmas.