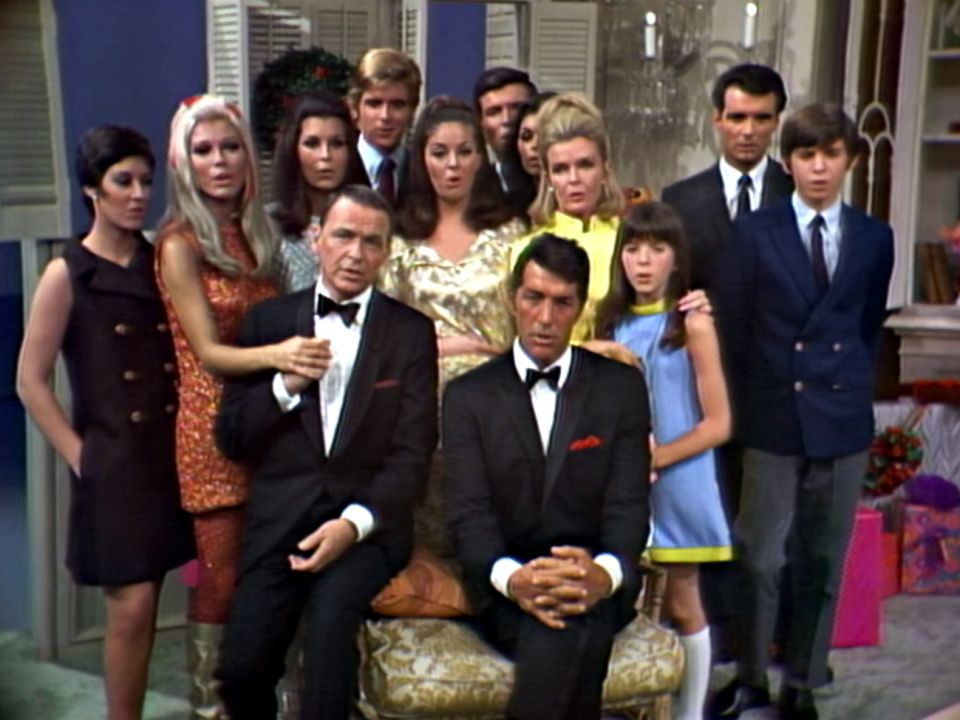 90-Minute Special Features New Interviews with Nancy and Tina Sinatra and Gail and Deana Martin From Capitol Records Studio A
Photo Credit: Courtesy "The Dean Martin Show"
As a special treat for viewers, new interviews with Nancy and Tina Sinatra and Gail and Deana Martin taped at Capitol Records Studio A are featured in the 90-minute version of the program.Frank Sinatra and Dean Martin, along with their respective families, joined together for this memorable Christmas celebration filmed in 1967, and not seen in its entirety since its original airing on December 21, 1967. In addition to more than a dozen holiday classics, Frank and Dean give viewers a special present: a medley of many of their most beloved songs. They're joined by an all-star cast of friends and family: Nancy Sinatra, Frank Sinatra, Jr., Tina Sinatra, Claudia Martin, Craig Martin, Dean Paul Martin, Deana Martin, Gail Martin, Gina Martin, Ricci Martin, Jeanne Martin (Mrs. Dean Martin) and Sammy Davis, Jr. THE DEAN MARTIN AND FRANK SINATRA FAMILY CHRISTMAS SHOW is part of special programming premiering on PBS stations beginning Friday, October 29, 2021 (check local listings).
The special is brimming over with fan favorites, including solos by Dean ("I'll Be Home for Christmas"), Frank ("Have Yourself a Merry Little Christmas"), Nancy Sinatra (a special holiday version of "These Boots Are Made for Walking"); and Gail Martin ("Santa Claus Is Coming To Town"). Dean and Frank duet on a medley of their hits like "I Can't Give You Anything But Love," "Pennies From Heaven," "A Foggy Day," "The Lady Is a Tramp," "All of Me" and more. Fathers Dean and Frank perform with sons Dean-Paul Martin and Frank Sinatra, Jr. on "How Do You Talk to Your Dad?" and with daughters Deana Martin and Tina Sinatra on "Do, Re, Mi." And the entire cast joins in on "There's No Place Like Home for the Holidays" and a medley of beloved Christmas carols, including "Deck The Halls," "O Little Town Of Bethlehem," "Joy To The World" and "Silent Night."
About Frank Sinatra
Throughout his seven-decade career, Frank Sinatra performed on more than 1,400 recordings and was awarded 31 gold, nine platinum, three double platinum, and one triple platinum album by the Recording Industry Association of America. The three-time Oscar® winner also appeared in more than 60 films and produced eight motion pictures. Sinatra was awarded Lifetime Achievement Awards from The Recording Academy, The Screen Actors Guild and the National Association for the Advancement of Colored People (NAACP), as well as the Kennedy Center Honors, the Presidential Medal of Freedom and the Congressional Gold Medal. Frank Sinatra demonstrated a remarkable ability to appeal to every generation and continues to do so; his artistry still influences many of today's music superstars. He remains a legend and an inspiration around the world for his contributions to culture and the arts. For more information about Frank Sinatra, visit sinatra.com.
About Dean Martin
One of the most popular and enduring American entertainers of the mid-20th century, Dean Martin was a five-time Golden Globe winner, a three-time Emmy Award winner and nicknamed "The King of Cool." Throughout his five-decade career, he performed on stages, in nightclubs, and on audio recordings and appeared in 85 film and television productions. A multi-faceted artist whose talents crossed media boundaries, he has three stars on the Hollywood Boulevard Walk of Fame: one for recordings, one for motion pictures, and one for television, where he introduced Americans to Celebrity Roasts in the 1970s. His best knowns songs include "Ain't That a Kick in the Head?," "That's Amore," "Everybody Loves Somebody," among others. With worldwide record sales that exceed 50 million, he recorded 32 original studio albums. For more information about Dean Martin, visit deanmartin.com
PBS special programming invites viewers to experience the worlds of science, history, nature and public affairs; hear diverse viewpoints; and take front-row seats to world-class drama and performances. Viewer contributions are an important source of funding, making PBS programs possible. PBS and public television stations offer all Americans from every walk of life the opportunity to explore new ideas and new worlds through television and online content.
Underwriters: Public Television Viewers and PBS